"I have never restarted
my CV
134 times"...Landing your first job as a young graduate, can be a bit (a lot) like an obstacle course.  The Daily Wiz team decided to question young people about the problems they encountered whilst searching for a job.  Our aim is to help you laugh these problems off with, in pictures, a selection of statements that young people looking for a job would NEVER say (but hopefully will one day…)! [slideshow_deploy id='1899']
Applying for jobs takes too long
"I applied for a job, I got a reply in less that 24 hours and the job in 48!" "After only one 7 minute interview, I got the job!"
Not receiving a reply after applying
"My job application has never been completely ignored..."
Great career prospects
"I'm so relieved my profile fits all the job requirements so perfectly" "I think my friend who just graduated with a degree in Anthropology is going to find a job before me..."
Not having experience at the beginning of your career
"Experience required: I'm so grateful they gave me the chance to get some!"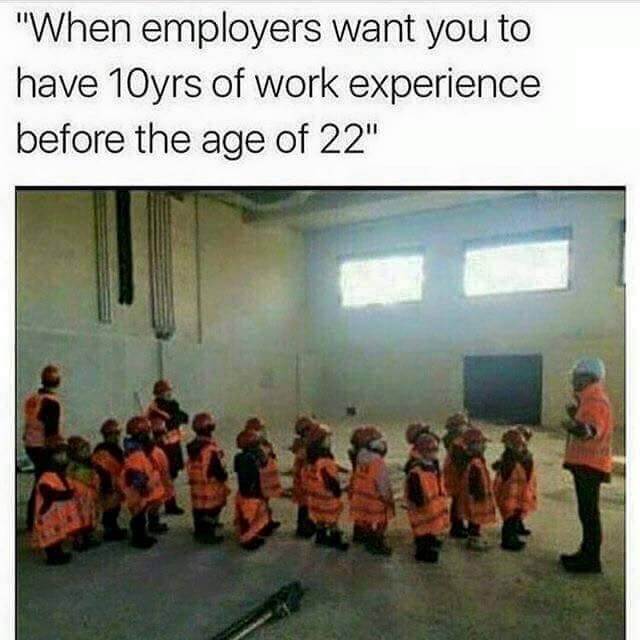 "The company rejected my application because I had too much experience"
Being forced to relocate
"I found the job of my dreams, just around the corner!" "There are so many interesting job opportunities outside of London!"
Awkward interview questions
"During an
interview
, I have never said that being a perfectionist was my worst quality"
A salary that leaves a lot to be desired
"I love being paid £450 for doing the same job as my permanent colleagues!"
Interview Stress
"*Comes out of an interview*: I'm 100% sure I got the job!" And what about
you
, what problems have you come up against? Lucky for you,
Wizbii
is here to help you find a job, internship or work placement!