You're looking for a job, and it's taking ages. Finding a job is extremely time consuming and often not very fruitful, which is why favoring the quality of applications over the quantity will save you time. Everyone keeps telling you to send personalised applications! Follow-up emails are as important as choosing the right outfit for the interview itself. Below is Chloé's advice.
An uncommon practice
Follow-up emails are often perceived as a pointless formality, but you will quickly come to realise the importance of having as much luck as possible on your side!
A few small details for specific cases
You should keep in mind that sending a follow-up email isn't necessary across all sectors/domains and every market has its own way of functioning. For example, in certain sectors where there a lot of job applications and vacancies, there it's not crucial to send a follow-up email. If you still haven't received an email after 15 days, there's no hope that your application has been chosen, so move on to something else. Remember that we're not talking about a follow-up
letter.
It's your choice, but sending an actual letter 
can sometimes do more harm than good
. All of this is open to debate and everyone has a different opinion on the subject, so 
assess the situation for yourself. 
The question is the same for sending a CV by post, some companies prefer paper to digital. If you're not a gifted wordsmith, making a phone call could also be a good idea.
Why is a follow-up email so important? 
It's not just a simple "thank you", even if that's how you should start off the email. The aim of a follow-up email is to show your interest for the position you are applying for. If you don't want to miss out on this opportunity, you need to recontact employers to
show your motivation and interest
. The follow-up email confirms that you have perfectly understood what the position entails, the responsibilities and the fact that they match your skills and professional objectives. You can take advantage to ask a question or bring up something you left out during the interview that might
 help you get the job
. The most important thing it to stick to the point, otherwise it could work against you. Focus on your assets by bringing extra information to the interviewer to help them make their decision. Another purpose of a follow-up email is to ask for more information about what happens next in the process. You can also ask for an overall return on your interview (
Was I okay?
)
Keep it smart and simple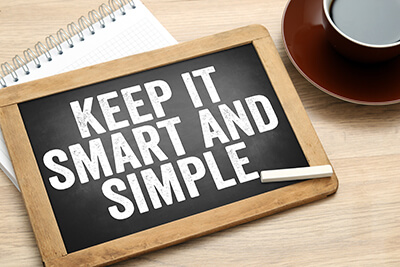 When should you send it?
In general, it's advisable to send the email between 24 and 48 hours after the job interview. That way, if you're waiting for a second interview, it's up to you to judge the timing. We advise you to to send it after your following interview if the interviews are one after the other.
Who should you send it to?
To the person who interviewed you. If there were two or three of them, send the email to each of them
without differentiating
. It would look bad to only send it to the HR Manager for example, as it discredits the others who might take it badly.
How to speak to the interviewer? 
Some people won't hesitate to play the "phoney" card so as to make a good impression and increase their chances of being chosen. This definitely isn't the purpose of a follow-up email. They want you to be yourself, there's no need to add those unnecessary "compliments" if you don't believe what you're saying is true. You should try to make a little summary of your interview (which shows you are organised, another brownie point). On the other hand, it's absolutely useless to start writing another cover letter:
less than ten sentences is enough
. Important: don't spam the company's inbox - there's nothing worse for employers who are already buried in emails. It can even prevent you from getting the job! Verdict: find the right balance. If you haven't heard back in two or three weeks, it's highly likely that you
haven't been chosen
.
From the employer's point of view
A little effort, a valuable outcome
Recruitment agencies aren't always polite, it happens. But it's not a good reason to completely ignore your email  because they aren't very friendly. If you have come to the conclusion that you don't actually want the job, it's not worth waiting for a response from them. In this kind of situation, take the initiative to thank them for inviting you in for an interview and let them know that
you don't feel you match the job,
 that, having thought about it, the responsibilities don't interest you - it's better to let them know.
Making a good impression
Even if you don't  get the job following these exchanges,
a follow-up email will always act in your favour, no matter what happens
. The recruiter will be left with a positive image of you and feel as though you are involved. Maybe next time they will call you directly for a job before posting it online.
Recruitment isn't insignificant
If your potential future employer mentioned anything specific during the interview (commutes, contract type, working hours or otherwise) it's time to reassure them. You can sometimes run out of time at the end of an interview. For an example, a full-time position isn't common for a startup. They want to be sure they aren't making a mistake by employing you instead of someone else. As such, employers
pay attention to any positive indications they receive
 before making their decision.
The magic formula
I will finish with an example of an ideal follow-up email which is sure to help get into an employer's good books. You should, of course, adapt it to the type of company you are applying to (for example, it's maybe a good idea to be a little less conventional for a job in communication or in a startup!)
Dear Mr/Ms X,
I would like to thank you for taking the time for our interview on the date for the position of name of position. I particularly appreciated how you made me feel at ease straightaway.
I understood that the main responsibilities of the position centre around:
main responsibility

 
responsibility 2
responsibility 3, etc.
The essential qualities and skills needed for this position (
list of qualities/skills),  which you kindly explained during the interview,
makes me feel confident in my capacity to fulfil the required duties. I would be delighted to be a part of your team and contribute to the success of
name of company.
Please feel free to contact me by phone on
telephone number 
or by email 
email address 
for any further information. Thank you again and I look forward to hearing from you soon,
Signature Name Surname
Magic formula for making a good impression on the employer:
- Sincere thanks, - Show your interest in the position and how it corresponds to your profile - Show your availability by leaving your contact details You're all set! All that's left to do now is to find a job on
Wizbii
, the leading professional social network for students and young graduates.
This advice is valuable in many different situations and isn't limited to writing a follow-up email. Politeness and respects are qualities which are always highly appreciated by companies. Put yourself in the place of recruiters: you need to find someone who has as many social qualities and transferable skills. In conclusion, below is an infographic explaining the importance of social qualities: