Following the success of previous editions, your favourite competition is back for the 3rd time: Wizbii wants to fund your studies!  New this year: we're not only giving away a scholarship in France, but also in Germany, Spain, the UK and Italy!  5 lucky European students will get a massive helping hand towards financing their studies. 
The Concept
Wizbii is offering the chance to win a scholarship of £1,500, but that's not all! If the winner was referred to the competition, the friend who referred them will also win £1,500.  In other words, don't forget to invite your friends!
Why this competition?
As our team's diagram shows, the average annual cost of studies is very high in Europe, particularly in the UK (£20,590).  For this reason, Wizbii has decided to give students a little helping hand!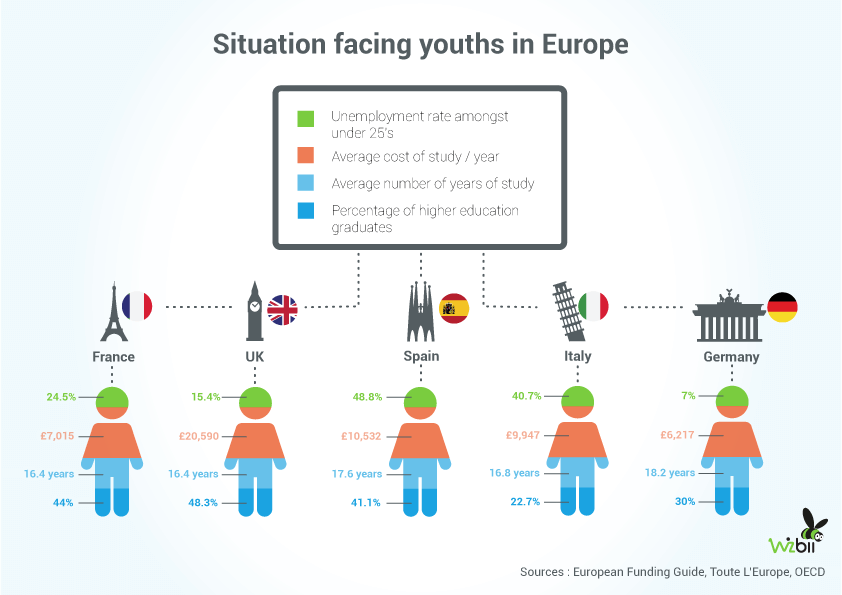 How does it work ?
To have a chance of winning the coolest scholarship of the year,  all you have to do is: 
♦ get yourself
onto the page
♦ fill out the form with your name, email address and password All participants can maximise their chances of winning by referring their friends -> Invite your friends, if one of them wins you'll also win the same amount!  You'll therefore need to invite your friends, with a simple click, via Facebook or Gmail.
Who can participate?
Any student aged 28 or under on the day of the prize draw, or anyone who has been a student in the past 2 years.
When is it?
The competition has already begun!  The deadline for participation: the 11/12/2015.  Prize draw the 15/12/2015.

Try your luck before time runs out! 
Competition Rules