The Uni Baggage Team at Belfast's Titanic Quarter
We've all been there, at least I have: trying desperately to pull on as many pieces of clothing as possible to reduce the weight of our over packed suitcases as we fly home once uni has finished. That need no longer be a problem, thanks to the Uni Baggage team...
Thanks for agreeing to an interview with us, Uni Baggage.  Would you be able to give us a quick break down of the services you provide?
Yes sure, thanks for having us!
Uni Baggage
is a low cost
luggage delivery service
, primarily for students who need to move their belongings to and from university every term. As well as helping students save money, the service also relieves them of some stress when it comes to moving to university as it's super convenient and easy to use.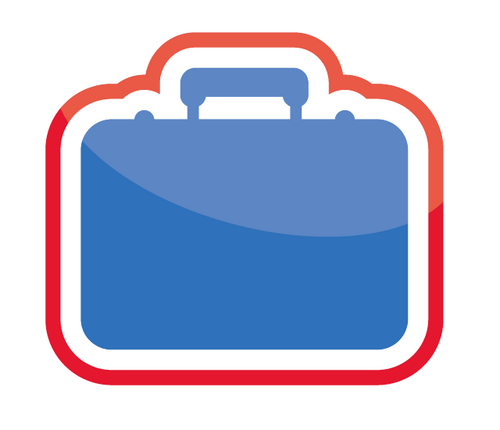 How many people make up the Uni Baggage team? Can you tell us a bit about the founders?
We have an amazing
team of ten people
at Uni Baggage. We're like a little luggage shipping family! Our managing director Paul Stewart came up with the idea for Uni Baggage when he was a student at Edinburgh University and ran the service
from his university bedroom
. Needless to say, we've expanded quite a bit from there and we now work from a great office in Belfast's Titanic Quarter.
In general, who are Uni Baggage's main clients?
Our service mainly helps students, we have a network of almost
30,000 students
which grows every day. However, we also ship items for holiday makers, business travellers, expats and anyone who needs to relocate luggage.
What are the most popular locations that you ship to and from?
We help a lot of
Northern Irish students
who are travelling to the
Mainland UK
to study at university. This is mainly because their only other option is to send luggage with an airline and as this is so expensive and inconvenient, we wanted to provide an easier and cheaper alternative. We also send a lot of items from the UK to America, Australia, New Zealand and to mainland Europe.
Uni Baggage is available in the UK, but is it available elsewhere?
Yes, we ship to over
200 countries
worldwide
. Our overseas routes are extremely popular, as they are very low cost. There are a growing number of UK students taking a
year abroad
who need to send luggage overseas and also there are a lot of international students coming to the UK to study, with no affordable way to transport their belongings.
Call you tell us what the inspiration was in creating a delivery network that caters primarily to students?
As I mentioned, our
MD Paul
came up with the idea
for Uni Baggage when he was a
student at Edinburgh University
, with no way to get his belongings to and from his home in Northern Ireland at the beginning and end of term. Most of the interest in Uni Baggage initially came from students and Paul recognised that there was a huge need primarily among university-goers for this kind of service. And it just grew from there, but as I said – we do also help people who aren't students too.
Does Uni Baggage have any special features which make the collection/delivery process any less stressful?
Yes, apart from the low prices, one of the main benefits of Uni Baggage is the convenience the service offers. We provide door-to-door collection and delivery, as well as a full online tracking system. We also offer SMS and email notifications. And I can't forget our customer service department – although they are my colleagues and there is a bit of bias, I have to say, they provide an incredible level of
dedication and customer care
and we get great feedback from our customers, telling us how our team make the process so much easier.
We see that you donate 5% of your profits to good causes. What are they and why is this so important to you?
We've donated to various charities over the years such as
Cash For Kids
,
Comic Relief
,
Shelter
and
Macmillan
. We think it's important to give something back and we like to help a range of different causes. We're also open to any suggestions for a charity to donate to next year.
Do you have any big plans for the future of Uni Baggage, or are they top secret?
Yes, we always have a lot of top secret plans and new features and projects in the pipeline! We've recently launched a new Price Match tool to help us keep our prices competitive and affordable for students. And as always, we're constantly making an effort to expand and reach more and more students who need our help. If you would like any further information about Uni Baggage or are interested in their services, find them here:  
http://www.unibaggage.com/