As if being a medical student wasn't enough work already, University of Leeds students James Gupta and Omair Vaiyani decided to develop their own business on the side: Synap, the revision app developed by students, for students. James has been kind enough to share the story behind Synap with us: the inspiration, obtaining funding, along with some invaluable advice for other budding entrepreneurs. 
How did you and Omair meet and can you tell us how Synap started off?
Omair and I lived in student halls, and naturally started to study together. Over time that evolved into quite a competition where we were writing the most difficult medical questions we could think of to try and catch each other out. It was fun, but also very useful and helped us a lot in our exams that year. Synap really started at the end of that year when we had a bit more time on our hands, and decided to build the 'quiz competition' we'd been using ourselves into a website and mobile app which we called MyCQs at the time. The platform grew and grew, eventually getting to the point where we had 15,000 downloads in a single day! At that point we started to realise we'd tapped into something much bigger than we first realised, and started to research it more and built it into a more refined offering,
Synap
.

When did you realise you were on to a good thing and why do you think the app has been so successful?
The
15,000 downloads
was one obvious sign that we were at least doing something right. In app terms, 15,000 isn't a crazy number, but what is really telling is that
we never spent any money on marketing
. These were all organic downloads, people finding out about it through word of mouth – which meant people liked what we were doing so much that they were telling their friends about it. In addition to that, we were getting great feedback from people over email and Twitter, with a number of people asking if there was a way to pay for or at least donate! We've had some really
heart-warming feedback
over the years and it reminds us that behind all the figures and statistics, there's a tangible human effect to what we do.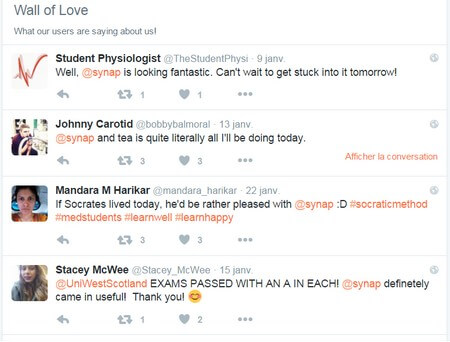 In terms of why it's been so successful, I think it's simply because we've tapped into something that there's a huge demand for amongst students. There's no shortage of
education apps
out there, but many of them have been developed with a top-down approach from people who are far removed from the student experience. Omair and I developed Synap as students,
we still are students and we literally rely on Synap
to get us through our own course. I sometimes joke that we have the 'fastest development cycle in the world', but there's probably some truth to it. We're both Synap power-users, so we'll be using it during revision, and if we spot something that isn't quite right – a button out of place, or a new feature that needs implementing – we instantly switch from revising to development mode, tweak it, then get back to studying! Because of this we're constantly iterating and improving Synap to be something that
students enjoy using
, rather than something they have to use.
Has your university provided much support?
Yes, Leeds has been fantastic and have a great scheme for encouraging student entrepreneurship. In particular, we've been supported by the
Spark
program, which has provided us with mentorship, grants and office space to help us get started!
How are you funded?
In the early days, we just put in a little money ourselves and supplemented that by charging for downloads of the app. The great thing about technology startups is that it you can get started for very little, even on a
student budget
! Over time we started to get money through grants from The University of Leeds and and Jisc, to the sum of around £10,000 that let us pay for some design and development work, and helped to cover hosting costs once we started offering the app for free. In August 2015 we launched a crowdfunding campaign on
Crowdcube
– the response to which was great, and we ended up securing
£196,000 from 141 investors in exchange for 16% of the company
. We're using that money to hit some development milestones over the next few months, and once Synap is at a stage where we're really confident in it, we'll start to market it to UK students. [caption id="attachment_2825" align="aligncenter" width="416"]
James and Omair speaking at a Synap investor event during their crowdfunding campaign[/caption] Synap is a community and a platform, so we want as many people to use it as possible, because this makes the community bigger, more vibrant and just more fun for everyone involved! This means we'll be keeping the core features of Synap
free
so that anyone can sign up. Over the course of this year we'll introduce some paid features and the ability for active members to charge for their quizzes if they want to. This should be great for people who run tutoring businesses if they want to earn a little extra money, or they could even offer quizzes for free and publish them on Synap to attract new students back to their own website.
Who are the most common users of the Synap? 
We have a huge range of users! Obviously with Omair and I being medical students, we have a large base of medics using Synap, but we also have GCSE students, Boeing pilots, teachers, martial arts instructors, people learning new languages, software developers and accountants using it, to name just a few! Really,
Synap is for anyone who has a lot to learn in a short period of time
.
How has the app developed since the early stages?
The core of what Synap is has never really changed – we encourage students to
write their own quiz questions, practice them at regular intervals, and share them with their friends
– we do that because it's an incredibly simple, yet powerful way to study. [caption id="attachment_2826" align="aligncenter" width="549"]
The evolution of MyCQs into Synap, as you can see it looks a lot better in each version![/caption] But the way we do that and present it within the app has changed and evolved dramatically. MyCQs was the first app we developed, back in 2013. Our own skills at design and development have vastly improved since then, we've listened to what other people wanted out of the app, and we've spent a lot of time researching what made MyCQs so popular in the first place. This led us to a wealth of scientific literature on techniques such as
Spaced Repetition
that we can build into the platform to help students learn more in less time.
How many people now make up the Synap team?
There are 7 of us now, and an extended team of regular freelancers we work with on top of that. We've got a great set of people who all share the same vision for Synap, which is really important. It's only in the last 6 months or so that we've started to grow the team beyond just Omair and I working on it, so having other people involved to share ideas and responsibilities with is really useful. [caption id="attachment_2827" align="aligncenter" width="626"]
The Synap Team: (left-right): Stuart Clakre, Omair Vaiyani, Shaunna Gaved, Oscar Price, Ben Marks, James Gupta, Jason Gaved[/caption]
What attracted you to creating your own business, or was it something that happened naturally?
I've always enjoyed having my own 'projects', when I was younger that involved setting up various websites for myself and other people, and helping to build a community around them. Running your own business lets you have a kind of
freedom
you'd never be able to get anywhere else, which I love. You also have to try your hand at a huge range of different fields, so there's a huge variety in what you spend your time on.
Did you ever doubt your idea?
Of course! We knew that Synap worked for us but then there's always a question of whether you're creating something that solves a problem in other people's lives, or just something that's a personal problem for you. Some people you speak to just won't 'get' the idea or will tell you it's the wrong thing to be doing, or perhaps you should try and incorporate something else... so you've got to constantly steer the direction of the company by deciding which suggestions to listen to and which not to.
What is the most important thing to remember when launching your own business?
There's a huge range of things I could say here, but the one thing I'm going to go with, because it applies regardless of what type of business you're doing or how experienced you are, and that's to
trust your instincts
.
Your 'gut feeling' is probably what inspired you to start a business in the first place, so trust it to guide you along the way. It's completely different and counter-intuitive to how most of us are taught to make decisions, but the fact is that when you're launching a new business, you're doing something that no-one has done before. By all means, find as much evidence and data as you can to support your decisions, but you'll rarely have the luxury of complete information, so at some point you're going to have to learn to trust your instinct!
What are your plans for the future of Synap?
Students and professionals can sign up to
Synap
now and start studying the 'right' way! Some people have written quizzes on Synap that have been taken tens of thousands of times, so it's a great way to boost your profile online – you can link your profile back to your own blog or
Wizbii
profile too! Over the next year we'll be growing the community to become one of the world's largest and most vibrant student networks, and we'd love to see some of your readers on there. :)
Thanks James, if only Synap had been around when I was at university! If you'd like to launch your own business like James and Omair, why not create a project page, free of charge, on Wizbii: test out your idea, increase your visibility and meet potential collaborators!