Yay! University is over and now… it's time for real life. There's no point living in the future and worrying for no reason, now is a time to celebrate. In case you hadn't already realised, you're only 22 years old (or somewhere around there) and you have your whole life ahead of you! You have a world of opportunities which await you, and the path you choose is completely up to you. Perhaps you've already applied to a grad scheme and been accepted, and if you have, well done! You can find out how to make a good impression at your new job. If you haven't even had time to think about what steps to take next and are starting to feel stressed out, we've come up with some options to help you stay calm and make the most of this exciting period of your life!
Rule number 1: Stay pro-active!
Before you start thinking about anything else, remember to stay pro-active. Exercise, walk the dog, see friends, start a blog, paint, create a website, read, babysit, do whatever it takes to stop you from losing motivation
between university and "real life"
. This will keep you in a routine and make it easier to organise yourself and come up with a plan of action.
Remember you're not alone
You were so excited that university was over, to come back home and see a fridge full of healthy food, to appreciate small home comforts like a TV and clean bed sheets, but after a while this might start to wear off. A few weeks later you will probably start missing university, your friends and independence. Stay in touch and meet up with your friends as much as possible.
Remember, they're probably in the exact same boat as you, so you can support each other and give each other advice
. If they've already decided what their next steps are, you can
learn something from them
and maybe one of them even has a
useful contact
who could help your career.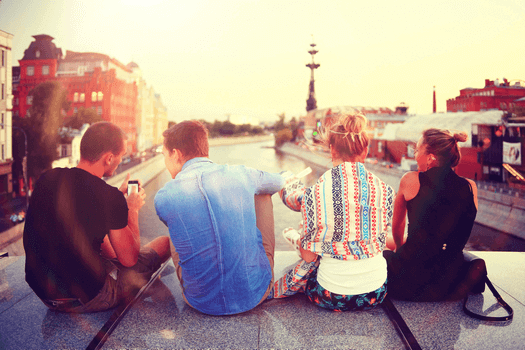 Take little steps
Before your parents get sick of you and start telling you it's time to get your own place, and that "when I was your age I was already married, had given birth and had been working in my job for 10 years already…" make the most of having somewhere free (or somewhere you pay a lot less rent at least) to stay and
get some work experience
. Even if the work experience is unpaid and you're not sure if it's the sector you want to work in,  
it will give you an idea of what you want (or don't want) to do later on
. It will not only help you stay motivated and make you feel as though you are making progress, but it will also give you an
idea of real working life and look great on your CV, which will help you get your next "grown up" job
.
Decide where you want to be
Once you have some experience and a better idea about your future, it's time to think about
where you want to live
! Perhaps you're a home bird, and if you are, there isn't much to think about and it's time to get job hunting. If you're looking for a new experience elsewhere, there are many factors that will influence your decision:
where you have friends/family, the lifestyle you're looking for, and perhaps most importantly, where there are most jobs in your sector of choice
. Even if a town or city isn't your first choice, give it a try and you never know, you might love it. If not, it's always an experience and as everyone knows, if you don't make mistakes, you don't make anything.
If you already know what you what to do career-wise, read this article about how to
organise your job search and find your first job after university!
Travel
If you're not ready to get stuck into your career, you might want to travel. Of course you can travel later, but now is the
perfect time
to move abroad as you
probably won't have many responsibilitie
s. You might be saying to yourself, "that sounds nice, the only problem is that I'm broke". However, there are many solutions if this is something you really want to do. 1. Although you might not realise it,
you are extremely privileged
. Yes that's right, the fact that you
speak English gives you a MASSIVE advantage when it comes to living abroad
, because believe it or not, English is the international language of the world. Sign up online or go to a centre and
gain a TEFL/TOEFL/CELTA qualification
, which will allow you to
travel almost anywhere in the world and get paid at the same time
. It's also a big plus to add to your CV. Teaching allows you to gain many invaluable skills for any career and is a great boost for your confidence. 2. If teaching doesn't appeal to you, why not get a part-time job over summer, save up, and book your flights to wherever your heart desires, then get a job once you arrive. It's not as daunting as you think, especially if you go with a couple of friends. Even if you go alone, you will meet lots of other like-minded travellers in youth hostels.
There you go, a short guide to surviving life after university. It's easy to feel as though there's a massive rush to get a job, but sometimes it's not as easy as that. Often, it takes time to find out what it is we really want to do. By doing different jobs and trying new things, you are gaining experience and making connections that will make finding the right career much easier. The moral of the story: keep calm and stay positive! Don't forget you can find graduate jobs requiring little experience on Wizbii. :)