In December our European competition Wizbii wants to fund your studies came to an end! To refresh your memory, Wizbii decided to help European students fund their studies due to high university costs and a rising level of unemployment amongst young people. Here you can find out a little bit about the winners and how they plan to use their Wizbii scholarships.
Fabio - Italian Winner
About Fabio:
An economy and business student at the Parthenope University in Naples, I am a member of AIESEC, the leading student association for professional networking. I am the vice-president of talent management for the local committee. Thanks to my experience, my responsibilities and my volunteer work, I now know that I would like to work in Human Resource Management.
How to you plan to use your Wizbii scholarship?
I will use the Wizbii scholarship to continue my studies, specialising in languages, which allow me to broaden my horizons. Check out his profile!
Felecia - German Winner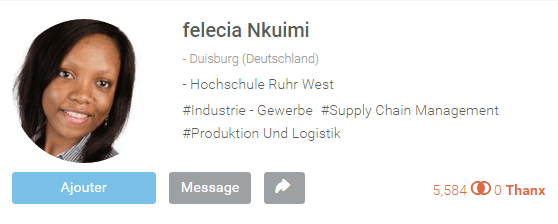 About Felecia:
I have been studying International Business and Logistics for two and a half years at the Ruhr West University in Mülheim an der Ruhr, Germany.
How to you plan to use your Wizbii scholarship?
The majority of logistics companies in Germany use SAP software, it's therefore necessary for my career but it comes at a cost. The cheque from Wizbii will contribute to this project that I keep putting off. By doing this, I will be able to increase my chances of being employed once I finish my studies. Check out her profile!
Donna - UK Winner
About Donna:
I study German and Translation studies at Aston University in Birmingham and I am currently studying at Viadrina University in Germany as part of the Erasmus programme.
How to you plan to use your Wizbii scholarship?
I really didn't expect to win so I haven't thought too much about what I want to spend it on yet! Next year is my final year at university so I am starting to think about what I'm going to do after. I would really like to do a Masters in Translation Studies which is really expensive and you can't get a student support loan. Therefore I would like to use the money to start my savings for a masters degree and improve my studies in the long term. :)
Marie - French Winner

About Marie:
After studying Economy and Sociology at high school, I decided to orientate towards a career in Logistics and Transport in order to bring together a passion with a personal attribute: aeronautics and organisation. I completed a degree in Techonology in Gradignan, France, which allowed me to gain a lot of knowledge. After that, I completed a BSc in Transport Management in Edinburgh, Scotland. This year allowed me to perfect my English and discover another part of the world. Currently studying for the first year of a Master at KEDGE Business School, I am specialising in Supply Chain, an area of logistics that suits me perfectly.
How to you plan to use your Wizbii scholarship?
The €2,000 that I have won thanks to Wizbii will help me pay for my university fees, allowing me to get closer to the job I feel passionate about. Thank you Wizbii.
Pablo - Spanish Winner
About Pablo:
I obtained my high school diploma in Science and Technology at the IES Gil y Carrasco Institute. After having passed the university entrance exam, I am currently at the University Carlos III in Madrid in my first year of Audiovisual Systems Engineering, bilingual option (English/Spanish).
How to you plan to use your Wizbii scholarship?
The Wizbii scholarship will help me pay for my university fees which have risen to practically 2,000 euros, and I will use the rest of the money to buy books, photocopies, material, etc.
Inès - Spanish Winner

Inès also wins 2000€ as she was invited to participate by her friend Pablo!
About Inés:
I got my high school diploma in Science and Technology at the IES Gil y Carrasco Institute, in Ponferrada, with Pablo. After many hard days of revising for the university entry exam, my efforts were rewarded with a mark that allowed me to study to become a nurse in La Coruña.
What will you use your Wizbii scholarship for?
To start with, I want to use it for the first semester of my Erasmus year abroad, as it is an experience which, I feel, has to be done at least once in a lifetime. It is, at the same time, hard to access due to the fact there are very few scholarships dedicated to the programme.
Thank you to everyone who participated and even if you didn't win this time, remember that Wizbii can help you kick start your career - you can apply to thousands of job offers online in a few simple clicks, or even find an associate to help launch your startup!
A massive thank-you to Radio FG and to the bloggers/YouTubers helped us spread the word about the competition: DalasReview, Safia Vendôme, Rock and fiocc ,GiampyTek, Zamp.
See you soon for upcoming competitions!