For this week's Inside the Company, we interview 25-year-old placement studnt Daniel Sanham shares his amazing experience working as an Electronics Engineer at Infiniti Engineering Academy Renault Sport F1 Team.
 Can you tell us a little about your background and education?
I'm 25 from the north of England, currently working as an electronics engineer with Renault Sport F1 Team. This is a year out of my studies,
Electronic and electrical engineering at the University of Nottingham
. I was the winner of the Infiniti Engineering Academy European 2015 regional final, which is how I gained this
placement
.
Why did you choose Renault Sport F1?
I actually applied for the Infiniti Engineering Academy which offers the chance to work 6 months with Infiniti at their R&D centre in Cranfield and 6 months with the F1 team in Enstone. A technical partnership between Renault Sport F1 and Infiniti makes this possible. There is simply no other internship combining the two industries like this. The other aspect of this that really attracted me to the opportunity was that they were
recruiting globally from several different regions
(for intake year 2015 this was Europe, USA, Saudi Arabia, China and Russia), which meant if I did win this placement I'd be amongst the best in the world.
How did you find your placement?
The placement has been going really well, I've met some great people made new friends. I've had so many amazing experiences through the academy such as
attending the Canadian Grand Prix in Montreal and being part of a race team at the 24hr Le Mans race
. As well as all this I've learnt a lot technically and had some fantastic guidance from top engineers; in terms of
developing professionally from two strong global industries
. The academy has also opened so many doors to potential careers once I've completed my final year at university.
Can you describe the interview process?
I handed in my
CV
as well as short video describing why I deserved this opportunity. A few weeks later I was invited to
interview over skype
. I believe all these factors were put together and scrutinised by both Infiniti and the F1 team. A few weeks later I was informed I'd reached the European final. At the final there were numerous team based tasks as well as a written exam and a more intensive interview with a panel represented by Infiniti HR and engineers from both the F1 team and Infiniti. The day was tough and competitive but I thoroughly enjoyed the experience pitting my wits with and against some really bright engineers.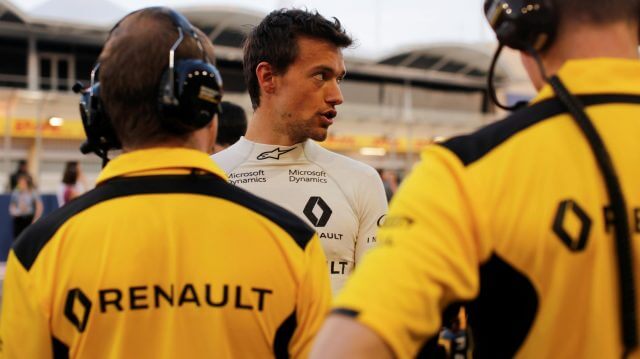 Was there a lot of competition for the position?
The opportunity to work in both these sectors is rare, so
competition was  fierce
. There were 10 in the final including me but there were
thousands of applications
. The people in the final with me were all very bright engineers and would certainly not be out of place in either industry had I not won. In fact some of the finalists are now with other automotive or F1 teams, such is the calibre of engineer the Academy has attracted.
What are your main responsibilities?
Due to the shift in placement after 6 months my responsibilities have been varied. I've worked on many projects though, a lot to do with
creating test solutions for various electronic and electrical components of both the Infiniti Q30 and RS16 race car
. A lot of the projects I've worked on are confidential in nature due to the competitiveness of both industries. The work I have had though; it is worth highlighting, have been real and tangible to the vehicles that both companies produce.  It's challenging work that has stretched me and allowed me to learn so much more in my chosen field of study. [caption id="attachment_5983" align="aligncenter" width="649"]
CRANFIELD, ENGLAND - JULY 08: The Infiniti Performance Engineering Academy European Final at the Infiniti/Nissan Technical Centre for Europe on July 8, 2015 in Cranfield, England. (Photo by Dan Mullan/Getty Images for Infiniti Red Bull Racing)[/caption]
Would you recommend this company and why?
I'd definitely recommend the academy to anyone. You will not find an internship like it that
combines automotive and F1
, at all, never mind one as good as this. They helped with accommodation from the start as well as providing two Infiniti Q50's shared between the 5 winners. The work and projects given to me have been hands on and relevant, as well as being technically challenging.  There is also a degree of determining the direction of projects in order to tailor the experience more closely to what you'd like to work on. I don't think there is anything out there quite like it.
What has been the highlight of your time at Renault Sport F1?
There are two main highlights. The first was attending the
Canadian Grand Prix
for the entire week, at which I also presented to the University of McGill. This was to share with students there, my experience within the Academy and why they should apply for this year's intake (People can apply at
academy.infiniti.com
). My other highlight was being placed with the
Algarve Pro race team in a Data Engineering role at the Le Mans 24hr endurance race
. It was an incredible experience with an amazing atmosphere. Working on that race team with
Sir Chris Hoy
as one of my drivers will be an experience I will never forget!
Do you think that there are career prospects within the companies?
There are definitely career prospects with both companies. Both have been very open with the prospect of taking me on after my final year at University. If I get through my degree with good grades then I have no doubt that the door will be open to go to either company once my time at university is finished.
What are your plans from now on?
I will finish my placement mid-September 2016. After which I will go back to University to take the final year of my degree. After which I'm sure I'll be in either the Automotive or motorsport industry.
Thanks Daniel and all the best for the future! :) Don't forget to check out Wizbii to find your dream job or internship!