You've finally got the job! You're impatient to show how enthusiastic you are and how much you want to stay at the company! The first few days are often considered as the most important as they allow you to give a first impression that will last for months. The objective isn't to scare your employer, but to try to convince them that they've chosen the right person for the job. This advice will hopefully help you make a good first impression and prove your determination, whilst staying professional at the same time.  
Research the company
Arriving on your first day and not knowing anything about the company could be seen very badly by those in charge. You will most likely have been
chosen for your personality, the fact that you match the company values and your motivation to be apart of the company.
 You will probably have demonstrated that you know the company, what it does, and that you understand the company's ethos. This information will be very important during your first few days, so have a read over what you revised for the interview, but this time go a little further into detail.
Be specific
. If you're a talented writer, analyse articles from the company's website. If you're an expert in events management, prepare some ideas for clients of the company. Each company has its own identity, history and corporate culture. If you understand all of this before even starting your job, you're sure to make a very positive impression before the end of the week!
Smile
There's nothing better than a
co-worker who smiles, is sociable and positive, and who we want to work with
! It may sound cliché, but a smile can brighten up someone's day. The secret is to be careful in what context you do so: smile when you arrive at work in the morning or when a colleague asks you for help. Your smile must show that yes, you're great!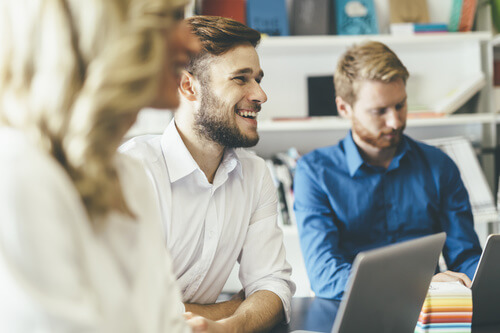 Pay attention to non-verbal attitudes and language
During the first week, it's almost certain that you will be asked to attend a some form of meeting, either internal or with clients, without necessarily being warned in advance. There's nothing worse than having your schedule shaken up by something unplanned. But even if it's a planned meeting, it's often tempting to relax a little in your chair and get carried away by your thoughts. It's obvious straightaway when someone isn't concentrating, which is why you should pay extra attention to how you sit and especially to your body language.
Sit up straight, smile and act as though you are interested in your colleagues' discussion
.
Headphones are a big no-no
Wearing headphones or earphones is the equivalent of putting a massive sign in front of you saying "DO NOT DISTURB"! It is, without a doubt, an impolite gesture that separates you from the rest of the team and stops you from being considered for many different types of projects. So take out your earphones as often as possible and get involved with others at work.
Take time out for a coffee break
Make the most of opportunities to socialize with your colleagues. Whether it takes the form of a coffee break, an after-work get-together, lunch or dinner together, make sure you're there and
take an interest in your colleagues
. By doing so, you build professional relationships that are a lot stronger than a two second chat in the corridor at work. Your presence will become something positive for others, in work and outside it.
Be productive
It's almost certain that at one point or another you won't have anything to do, especially at the beginning. Don't sit with your arms folded but, instead, use it as an opportunity to show your resourcefulness by finding things to do, no matter how trivial they might seem: organising lunch between colleagues, asking someone if they need any help...
Don't be afraid
If you have a problem or need advice, don't wait for others to come and help you. Go and see them directly and share what's troubling you. They will surely be more helpful than waiting around for the problem to go away on its own.
Say "yes"
Does a colleague need a helping hand to clean the dining room or has someone asked you to make a coffee?
Be available and ready to help, don't wait to be asked, try to predict
. Your colleagues will be thankful and will remember your actions.
Say "thanks"
It's not your
colleagues or your manager
who should be thanking you for your presence, but rather you who should be thanking them for the opportunity you've been given. Remember to thank those around you as often as possible, especially those who advise and help you find your feet in the company so that everything runs smoothly.
Your kindness and good manners won't go unnoticed!
Try to relax as much as possible during your first few days at work and make the most of the atmosphere when you arrive: it's the chance to introduce yourself to your colleagues and make a good impression. By following this simple advice and being yourself, everything will go as well as possible and you should have a positive first week.