High heels, impeccably tailored clothes and the latest must-have handbag, you stride confidently down the streets of the capital, ready to get hired by the country's top fashion magazine. Actually wait, that's definitely the credits of a film. You've finally graduated, you don't have an awful lot of experience and the only position available with the magazine of your dreams is "Photocopy Assistant/Coffee Delivery Girl/Boy. Before you find your way to glory, you must prove that you're able to put up with just about anything, that you are extremely resourceful and ambitious, even when it comes to choosing between work and your personal relationships. Does any of this ring a bell? If not, go home tonight and (re)watch one of the best career films in the world, The Devil Wears Prada! That's right, this film contains precious career advice for young graduates, which I'm going to share with you today!
Arrive to the interview prepared
It's the first job interview you've been invited to for over a month, so you will obviously have prepared in advance in order to impress your future employer. Except, it's in a world where you don't feel very comfortable... a little like Andrea and her incredible taste in fashion, for example.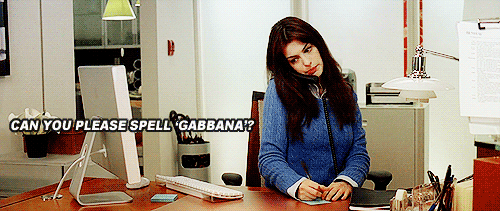 The least you can do is to be prepared! By researching the founder or head of the company, you will avoid gaping in front of the first assistant asking, very naively, "who's Miranda?", whilst everyone else is running around like headless chickens at the mere idea that she could arrive at any moment.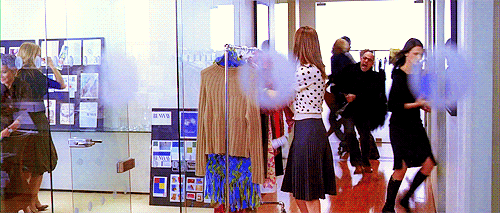 It doesn't matter what company or what sector the job is in, it's crucial that you research the company's history, values and how it functions: what does it do, who is the founder (or founders), the company's style, etc. This will give you clues as to how you should dress. It's true, appearance shouldn't influence the recruiter's decision, but if you arrive in the offices of Vogue, dressed in an old winter coat, a washed out pair of jeans and a pair of shoes that look like they came from the Victorian times, you risk being laughed at and asked if you got the wrong address. Research the company and adapt accordingly.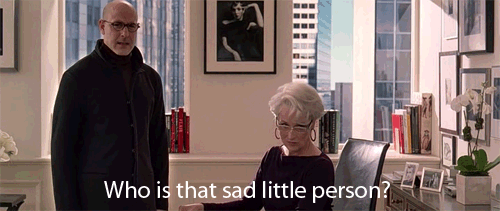 Most importantly, avoid eating an onion bagel before your interview! Instead, opt for a breakfast full of vitamins and brush your teeth afterwards; it's a small detail but having bad breath in front of a recruiter, especially if they're anything like Miranda Priestly, could have a rather negative effect!
Respect the work of others
You somehow managed to get the job and, after a long presentation of your responsibilities from your boss, you finally feel like you're starting to settle in. Everything is new and you still don't know a lot but you're learning like a good little student. However, that doesn't give you the right to criticise and make fun of those around you, under the pretext that you don't understand anything (especially during a meeting when your boss is in the middle of speaking). Sit up straight, listen and stay professional.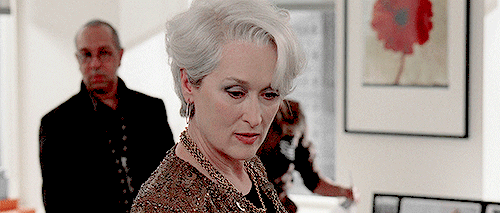 No need for unnecessary remarks, such as "all these belts are exactly the same" and don't make fun of your colleagues. So perhaps you don't share the same values, but there's no need to criticise their work and behaviour, especially in public. Let it all out with your boyfriend/girlfriend in the evening, but during work hours, stay concentrated on your objectives and it will all pay off in the end! On the other hand, don't hesitate to ask your colleagues or manager for advice when in doubt, it's their role to guide you and to help you learn.
Don't sell your soul to the devil
After a few months of hard work and effort, you're starting to really enjoy your work. Leaving your boss' dresses off at the dry cleaners and fetching the morning coffees on a daily basis isn't a chore anymore; you're starting to adapt to your work environment. You've finally ditched your old orthopedic shoes for a pair of Jimmy Choos, borrowed from the latest collection.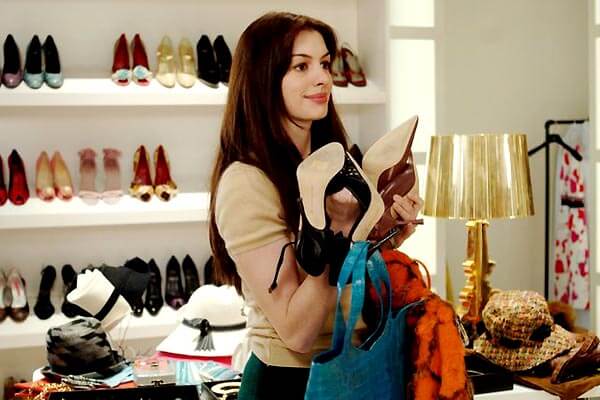 It's all very well to want to adapt and fit in, but be careful not to sell your soul to the devil (especially if he/she wears Prada and has a taste for the finer things in life). It's normal to change in order to adapt to the style of the company, but that doesn't mean compromising your values. Integrating is great, becoming somebody else, not so much. Of course you have the right to change your mind or opinion, but be careful not to forget who you are and what really matters to you: spend time with your partner, don't work from home, see your friends at the weekend, etc.
Maintain a certain level of privacy
It's your first job so you will obviously want to be as involved as possible and show your (cruel) boss how willing you are to do anything in order to reach your career goals, even if that means waking up 6 am every morning to go get their double latté macchiatto or drop off the book at their house after 10 pm.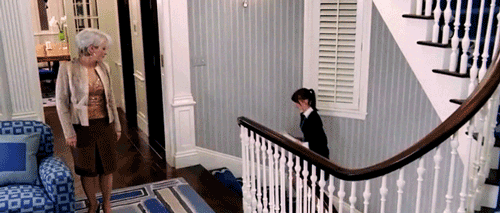 At least during your next job interview you can explain how motivation and determination are your thing, and no one can reproach you for not having tried everything (or almost). Except that outside work, you have something called a private life, a neutral place free from professional stress, where you can decompress and dedicate time to your friends or the person you want to share your life with (your cat works too). Once you start working, the risk is that you won't set yourself limits under the pretext that you have to prove yourself. It's difficult to give your all at work and still have a life outside, you therefore need to know how to draw a line between the two.
Andrea: My personal life is falling apart. Nigel: That's what happens when you start doing well at work. Let me know when your entire life goes up in smoke, then it's time for a promotion.
You alone can find a way to do so, everyone goes about it their own way: some set limits on their working hours, others decide not to work over the weekend or prefer to work from home (when work allows it obviously). Therefore, set aside time for yourself and your private life, or risk missing out on other important things like love or good times with your friends. The work will get done anyway, and the promotion will come even if your private life hasn't gone up in smoke, promise!
Make the impossible possible
You also need to know how to set limits at work: when it's impossible, it's impossible! Your boss absolutely must get the plane this evening because her daughters' show is tomorrow, but there's a monstrous storm and all flights have been cancelled? Unfortunately you're going to have to find another solution.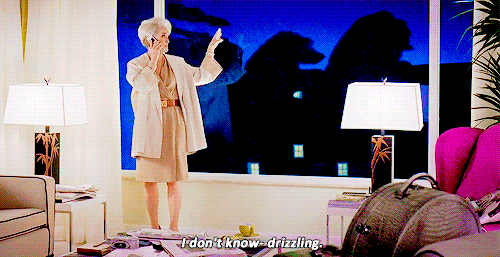 Don't bend over backwards for something that's obviously a losing battle. You will only end up wasting time, which isn't beneficial for anyone. Think of an alternative solution that will allow you to prove your initiative and don't be afraid to ask for help when it's really needed.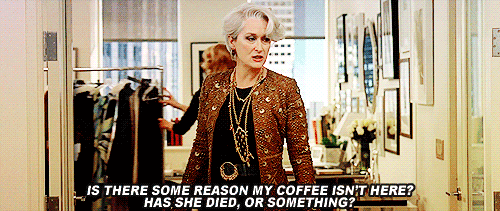 We are all confronted at least once in our life with one or more of these situations, although perhaps not as intense. However, no matter how amazing the job is, and no matter how many
millions of girls would kill for this job
at the end of the day it's YOUR career and YOUR life. Make the right decisions and remind yourself that when one doors closes, another opens. So stay strong and live this experience as fully as possible, it will always be beneficial. And most importantly of all, enjoy the film, it's great ;)