It all started out with an HD PVR he bought at the age of 14 to record clips for a montage on Modern Warfare 2, but Brad has now reached over 3 million subscribers on YouTube. We find out more about his inspiration, plans for the future of his channel and, most importantly, Brad himself!  
Firstly, congratulations on having 3 million subscribers on YouTube! Why do you think your videos are so popular?
Thank you! I like to think that I try and branch myself out to different areas similar YouTuber's haven't tried or mastered before. I like giving my largest content a sort of
"story" element to it rather than just whacky funny moments
, even though there's a lot of that too, and I think it works. I also like to really put in a lot of time into a few videos and really make them shine and stand out, with the price of not uploading as often; but I don't think the subscribers mind since they know they'll be getting a big video.
In your latest video, you mention that you'd like your videos to become more personal, how do you plan to do this and what are your plans for the future of your channel?
Over the course of my channel I've changed the whole layout a lot. I've went from standard Let's Plays to a Minecraft news channel to what I do now. Only reason I did this was because doing the same sort of style of
content got stale for me after a while and wanted to change it up
, that's kind of the position I'm in now. By personal I'd like to just get more of me out there, like I said before I have the "story" element to it but now I want more of a "me" element to it, like with
facecam's in some videos and IRL Q&A's
, I'd really like to see the channel go in that sort of direction. I'm not sure if that would be the future of the channel but I would like to try it out.
So, you started making videos when you were 14, what inspired you?
I didn't really have too much of an inspiration starting out. I watched a lot of YouTube, like Syndicate, Hutch, xJawz, a lot of the old school dudes.
I only decided to start a channel when
I bought this HD PVR
(used for recording gameplay) when me and my friends were in this small clan on Modern Warfare 2 and wanted to record some clips for a montage. When it finally came the clan had disbanded so I was stuck with this HD PVR, so I thought I might as well use it for Let's Plays and such.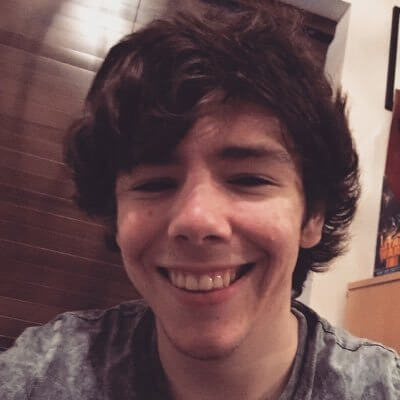 Tell us a little bit about yourself, where did you grow up, what did you study and where did you learn how to edit your videos?
I grew up in Surrey in this small town about an hour drive from
London
, and still live here. I started the channel in secondary school so didn't have many options to expand on learning new skills I could use, except maybe business studies in case I wanted to get serious with it. I went on to study BTEC Creative Media Production at college which was a 2 year course, or a 1 year course and get half the credit for it. It helped me learn a lot of the knowledge from the film industry and some transferred to helping me with YouTube, but I made the decision to only complete the 1 year course when the year ended to
focus completely on YouTube
; I had a real difficult time concentrating on both completely during it and I had a strong feeling it'd only get worse if I chose to do the second year. I don't regret it now, and if worst comes to worst I'd like to go back and study A-Levels.
What's your favourite video that you've uploaded so far?
My personal favorite is one I made a little while back, "
GTA 5 Alien Attack - Part 1
"
It's one part of a 2 parter GTA 5 story. This one by far has the most time put into it,
I had to take off a month or two to actually make it
. Right now I'm using my spare time to make part 2 which is actually taking a while, but I prefer it to taking a long while off.
Who are your favourite YouTubers?
It fluctuates a lot, I don't watch as much YouTube as I used to but I still follow
a few channels that have me hooked
. I love
CaseyNeistat
's channel, he's a vlogger that puts out some really high quality content, really pushes the creativity to the max. I also follow
M3RKMUS1C
's channel, he's a Call of Duty "funny moments" YouTuber that puts out some great comedy edits, just having a good time with it. There a few others I watch on occasion but those two are the ones where I watch every video put out right now.
Is it difficult to make a living as a YouTuber? 
It can be pretty hard at times. For me I didn't have a
job
 before this, so I never really experienced the discipline that comes with it.
Since you're your own boss it can be difficult doing the simplest of things like going to bed at the right times
because of the temptation or freedom to just say 'whatever', or the temptation just to take a day off when you feel like it. Although having fun is the most important thing with it in my opinion you still need to understand the responsibility that comes with it and that means learning the skill of self discipline and having the right mindset each day. You'd also need to commit a lot of time to it which sometimes can mean putting off nights out or some relationships with some people if you want to take it seriously. And if doing it full time you'd probably want to look at running every day or just having a walk to get out the house,
it can be easy to slip into the cabin fever stage with overwhelming thoughts of YouTube
, or at least that's my experience. It can be hard at times but the reward that comes with it makes up for it.
Brad's latest video, 3 MILLION SUBSCRIBERS! - Best of TheGamingLemon Montage #3 - (Funny Moments)
Even though we don't see you very often in your videos, do you ever get recognised on the street?
Quite often, actually. I put out my face a lot on social media and the odd one in videos. I'd say once each time I spend a day out like going to the cinema or shopping or something. It's a
great experience to know a stranger likes the things you create
and it really gives me a lot of motivation to make them happy.
What advice would you give to other young people who want to start their own YouTube channel?
From my experience the number one thing you'd need is
focus
. You absolutely don't need to have a lot of time or be out of school or take it as a full time job to be a YouTuber, in fact for most of my YouTube life I spent in school.
Make sure you're really having fun and putting out content that you find entertaining, not what follows the trend
, having fun is more important. Hypocritical of me but a really important factor is
consistency
which I think a lot of people can agree with. It doesn't have to be 1 video a day or even twice a week, but make sure you have a
set time when you release videos
or any sort of schedule going on so your subscribers know when to expect a video. That's one thing I'm working on now, but when you master that you can focus on making your content even better.
What are your plans for the future?
Honestly I don't have too many plans other than just self-improvement on the channel and becoming more personal, I'd love to get my subscribers
to know me more as a person than just a video making robot
. One thing I really want to master too is consistency, my goal is to one day achieve
1 video every 2 days
but starting out 1 every 3 days. I'm looking forward to it!
We wish you all the best of luck for the future Brad! If you'd like to find out more about Brad and watch his videos, check out his YouTube channel, Facebook or Twitter.