A while back, we shared an article giving advice about the best colours to use for your CV depending on your job sector. Today, we are delighted to welcome Pauline Lahary, founder of Mycvfactory (for creative CVs) who shares which fonts you should use for your CV. When writing your CV, it is important to pay attention to what font you should use as it can have a big impact on the presentation of the document and also makes a first impression on recruiters reading your CV. We will quickly mention the classic fonts, before moving on to the fonts that can really make a difference!
Classic fonts: For the content of your CV!
Helvetica
The font Helvetica is always a safe move for your CV. It isn't risky and will give applicants the image of being a perfectionist, someone who is efficient. It is a font that inspires professionalism and honesty. Helvetica suits young graduates and candidates in the high-tech sector perfectly. A great variant of Helvetica is:
Helvetica Neue LT Pro
, which we highly recommend. Example, 
Artistic CV
, the first name is written using this font: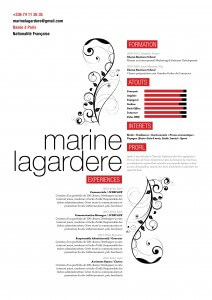 Garamond
This font is easy to read and looks like handwritten text, which suits experienced candidates or those working in literature perfectly. Garamond has the unique feature of always showing the eye where to read next.
Times New Roman
This is the default font in Word and is very well-known. However, it's a little over-used nowadays and slightly old-fashioned. We don't recommend this font - its day has come and gone.
Arial and Verdana
The fonts Arial and Verdana are considered neutral, as they don't give any particular indication about the candidate's personality. This makes them default fonts, just like Times New Roman.  Using Arial or Verdana can give two impressions to the recruiter: — the candidate hasn't put any effort into the presentation of their CV
the candidate has only concentrated on the content of their CV
Aller
This is our favourite font for CV content. We love this font no matter how it's presented: regular, light or bold. It's a great all-rounder and really stands out from other, more commonly-used fonts. Example the
Classic CV 

Fonts that make the difference: For titles and other details 
Bebas Neue
This is a fresh and creative font. Frill-free and minimalist, it highlights the titles in your CV. Completely in capitals. This
original CV
uses this font:
Raleway OTF
This is a stylish, "top end" font, that uses big letters and has a feminine allure. It suits candidates applying for jobs in fashion, sales and other similar industries. This
sales CV
uses this font: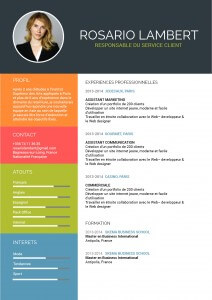 Century Gothic
A perfectly elegant font, as suitable for content as is it for titles. The vowels are pretty, and playing around with the spacing between letters can add a subtle aspect to your CV. Example: this
 modern CV :
Haettenschweiler (OTF)
A very popular font at the moment, this is a font for the I.T. sector. The shape of the letters is very original, and we recommend using it when applying for jobs in the I.T., finance or banking sector. Example
CV
:
Amatic
This is one of our favourites. This feminine font has a handwritten look and should be used sparingly as its originality makes it stand out. Example: the
Digital CV
Lobster 1.3
Exceptionally pretty, this font makes us feel hungry as it resembles fonts often used in the food industry! Example: the
communication CV
Rage Italic
We adore this one: a mixture of femininity and professionalism. Ideal for first names and signatures. Example: the
Estate Agent CV
In the same handwritten style, we love:
A&S Speedway
Example: The 
Painter CV
:
Capistrano BF
Example: The
 student CV
:
Recommendations
It is
extremely important not to mix and match fonts on your CV
. You must choose one and stick to it in order make it easy to read for the recruiter. Bold and italics are to be used sparingly. It is equally important not to use a font larger than 12 and to avoid using capital letters.
Maximum: 3 fonts for one CV. Any more and it becomes illegible and confusing.
It is therefore possible to transmit a message about your personality to recruiters thanks to the wise choice of fonts on your CV.
> Find all these fonts by clicking here, we've grouped them together for you!
Article written by Pauline Lahary, from Mycvfactory
Mycvfactory offers tailor-made CVs, as well as modern CVs which are available to download to help you for your job search. Get yourself onto www.mycvfactory.com to find out more.