It's finally time for your break at work.  Your tummy's rumbling and more importantly it's time for that all important caffeine-kick and a chance to rest your tired little legs.  You rush out and get to the coffee shop, only to find a queue that's half-way out the door, meaning half your break will probably be wasted.  Northern Irish entrepreneur Ross Hamilton has come up with the solution to this annoying problem in the form of BeansUp.
Hi Ross and thanks for agreeing to talk to us about your new app, BeansUp.  Can you tell us a bit about your background and education?
I've always had a passion for technology. I'm a huge believer in only pursuing what you are truly passionate about, I always had unending motivation and drive but only for the things that inched me closer to my goals in life.  I got into designing websites while working in a part time job in a pizzeria, saying yes to building a site for the owners friend when in reality I didn't know where to start!!
 Say yes, then teach yourself how to do it.
 I learnt more challenging myself with website projects I felt I couldn't manage and learning to overcome the challenges than I did at 3 years of computer science lectures.  There wasn't much impetus to learn in a lecture hall, but when someone was paying me, that was pressure!  Pressure makes diamonds! I funded most of my degree in Business & IT at
Queens University
designing bespoke websites for customers across Ireland.  While at university I created a platform for students to buy and sell their old module books online, raising investment to expand growth. After discussing my idea for BeansUp with my investor, we decided it had more global potential and parked the book platform.
So, what is BeansUp exactly and where did the inspiration for it come from?
The idea was born of my frustration as a customer in my local cafe, wasting my short lunch break stuck in a queue.  I thought,
wouldn't it be amazing if I could skip the queue, grab my coffee and go?!
  Two years later the idea has gone from a sketch, to raising investment, working with an amazing team to build the product and now customers across 3 countries. After researching the market and witnessing large corporate brands like Starbucks making mobile payment apps (and the new levels of customer convenience they offer) ubiquitous throughout the coffee industry.  I thought, why can't
independent coffee shops and small chains
offer customers this same innovative technology??  The huge cost and time involved in developing their own solution made it an unaffordable and high risk proposition.  This is where BeansUp comes in. We take all the time, expense and technical knowledge required out of creating a
beautiful, fully branded mobile order & payment app for a coffee shop.
We give
coffee shops
a branded app in the major app stores, and the simple, intuitive software to integrate it into their business.  The app enables their customers to order & pay from their phones, earning loyalty points as they spend.  Whether that's an office worker pre-ordering and paying for a sandwich and a coffee to collect, or a customer at a table working on their laptop ordering a second coffee without having to leave their seat and precious cargo unattended! Cafes can engage customers by sending tailored offers directly to their phones, easily edit their loyalty rewards, menu or almost anything using our intuitive web-based business dashboard.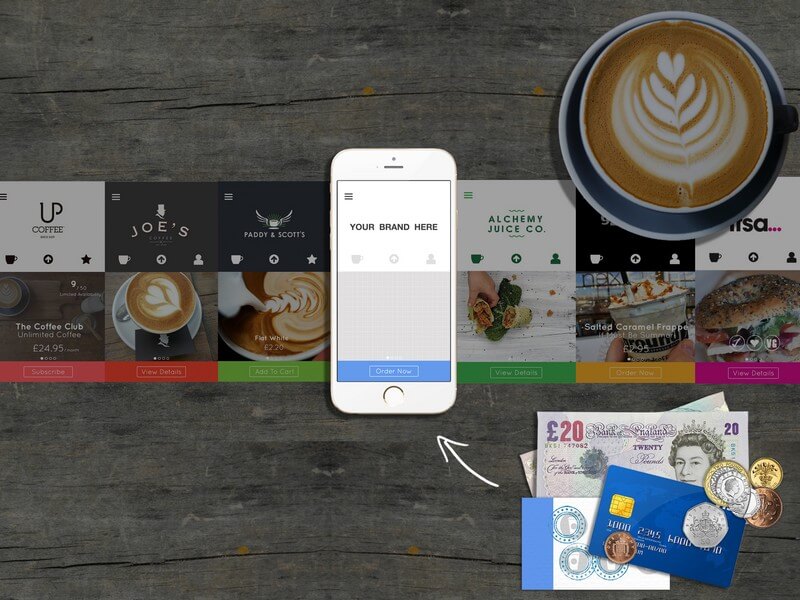 Where is BeansUp available?
Although our apps are only available in English at the moment, our platform is compatible in
25 countries
and their currencies worldwide.
All start-ups have challenges, but what would you say is the most important thing you have learnt from creating your own business?
Ultimately, when you first start your business, embrace being small, having limited resources and relish in the creative methods you will need to employ just to survive.  Maintaining this mentality is never negative and nearly always beneficial for the business.  Maintain that
lean perspective
irrespective of your companies bank balance.  
The "lean" methodology
made popular by Eric Ries is a much revered and encouraged path for the entrepreneur, and one we have followed at BeansUp.  At its core it involves trying to scale and onboard paying customers with minimal expense. We were very fortunate to secure
early stage investment funding.
  Although this was pivotal in creating our product it created a few
unexpected challenges
.  After the elation of receiving investment and the subsequent months of development, we had created an amazing product, but the investment money having served its purpose had almost
dried up
.  There we were, with very limited resources once again and the realisation that the only way to keep the business going was to get customers and to
sell sell sell!
I think this experience, the shift in mindset and approach that naturally creeps in when there is money in your bank, is something that heeds discussion.  One of my most pivotal learning experiences was that whether you are just beginning your business journey where this lean mentality is a circumstantial necessity, this approach should be maintained despite your growth and size.  
Thinking lean inspires you to think outside of the box.  It has saved us thousands in the last two years.
[caption id="attachment_2076" align="aligncenter" width="415"]
An example of a coffee shop already using the BeansUp app[/caption]
Any advice to other young entrepreneurs out there?
My best advice is
simply to do
, to create and remember the risk is non-existent with the right approach.  You don't need a huge budget (or a budget at all) to test your idea before pursuing it.  An MVP (minimum viable product) can be anything from a polished slide deck to (preferably) a basic working prototype.  There are amazing free tools available like
"Invision App"
where anyone can create high fidelity mockups to show to potential customers.  
Get your idea out to potential users in some form and use real market feedback
to de-risk your business before you you pursue it any further. I think when the majority of people talk about the "risk", they aren't talking about the monetary risk or the risk of time, but instead the risk of failure and of damage to pride.  Failing, at least in the UK has much more of a stigma than it should.
Failing isn't negative, the most important learning experiences in my life have been failures.
Failures go on to shape successes.
  In America, failing in business is a right of passage, and just look at the unbelievable
startup
and entrepreneurial culture they have!!!  
You haven't learnt until you've failed.
 Just remember that, whether you try and succeed, or try and fail.  Even trying to build your business gives you 100% better chance of success than the person that holds onto a "great idea" all their lives and does nothing with it.
If there is one message that has always stayed with me it's that ideas are common. The idea is 1%, the execution is 99%.
What are your hopes for the future of BeansUp?
In short, to scale globally, continue to innovate and to empower every independently owned coffee shop and chain no matter the size of their budget, to compete with their multi billion pound corporate competitors by utilising this amazing app technology.  The concept behind BeansUp definitely has applications in other market sectors so keep an eye out for us!
Ross has launched an Indiegogo campaign for BeansUp, show your support by backing the project here:
http://igg.me/at/beansup/x/3768143
. For any extra information or if you'd like to play about with creating your own customised app, visit
the BeansUp site
 or contact ross@beansup.com