When we were kids, we all dreamt of having a super cool job when we grew up: chocolate taster, professional TV-watcher, video game tester...So what if we told you that these jobs actually exist? That's right. There is actually a person out there paid to eat chocolate. With that, we came up with a list of the top 12 coolest jobs in the world!
In detail:
1. Island caretaker
In 2009, British native Ben Southall was chosen for "
the best job ever
": a 6 month contract to take care of a tropical island. The job consisted in swimming, exploring, and relaxing in a villa on Hamilton Island, an island of The Great Barrier Reef off the coast of Australia, and to maintain a blog of his activities. For this he was paid £70,000. Not too bad...
2. Chocolate taster
Marks & Spencer employs Alex Emerson White to travel the world and eat chocolate every day. She sources the
best ingredients for their Easter egg production
. This job that seems to have come straight out of Willy Wonka does have its downsides, though: when you eat 5 kg of chocolate every week, you have to compensate with a lot of exercise.
"I go to the gym before work four times a week to keep fit and healthy," she explains to The Telegraph.
3. Video game tester
Call to all gamers! It's true, there are really people who are paid to
play video games all day long
. But this job does not only involve playing for fun: the testers have to identify all of the glitches and faults in the game and determine if everything functions correctly. It requires a number of IT skills and excellent attention to detail. In addition to being fun, this job can be the beginning of a career in video game design and creation.
4. Beer taster
What better than to be
paid to drink beer?
(responsibly, of course) These experts are trained to taste beer and are able to identify the many different flavors and aromas and determine what it is that makes a beer good. Nevertheless, it goes without saying that you need to be able to restrict yourself to drinking in moderation. ;)
5. Travel blogger
After finishing her degree, Brooke Saward bought a one way ticket and left her native land of Australia to tour the world. Today she  has more that 320,000 fans on her social media pages in addition to her blog that counts more that 950,000 visits a month. In the beginning of her adventure, she paid for her travels from her own pocket, but with the success of her blog,
she is now sponsored by hotels and travel sites
who offer her benefits in exchange for visibility on her blog. So she is basically paid to travel to the most beautiful places on the planet!
6. Netflix binge-watcher
Attention binge-watchers! Netflix has created your dream job. Netflix pays two people, Josh Garrell and Kipp School, to
watch films and series for hours on end
in order to tag the content to improve their recommendation system. A job that can be done straight from your couch and that demands little responsibility.
"It literally is a dream job. I get paid to do what I'm doing in my leisure time anyway," Garrell told CNBC. 
7. Panda nanny
Have you always dreamed of cuddling a panda? Last year, the China Giant Panda Protection and Research Center in Ya'an was looking for "panda nannies". The cutest job ever pretty much involves spending 365 days of the year with the pandas.
"Your work has only one mission," organizers said. "Spending 365 days with the pandas and sharing in their joys and sorrows."
With only 1,900 pandas left on earth, we have to do everything possible to protect this endangered species, even if this means dressing up in a panda costume.
8.  Water slide tester
In 2013, Seb Smith was chosen amongst 2,000 candidates to test the
water slides
of First Choice resorts across the world. For 6 months, he slipped and slided down slides, grading them on their level of splash and the level of adrenaline.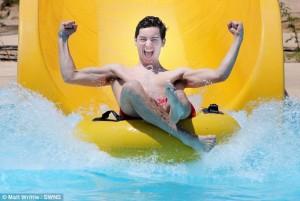 9. Duvet tester
One lucky person in the UK is hired by department store John Lewis to spend their days
choosing the softest and most luxurious duvets
. We imagine that the hardest part of this job is not falling asleep while on the job... ;)

10. Festival reporter
Here's a pretty awesome summer job. As a reporter for So Music, an initiative launched by the French bank Société Génerale, you are given access to
four of the best music festivals in France, let alone in Europe
, to attend the concerts and report on them. In addition to having free access to festivals, the job is paid 1,500 euros per month in addition to travel and food expenses and accommodation.
11. Japanese subway pusher
This may not be the most pleasant job in this list, but it may help those who are a bit stressed. The subway in Japan is so crowded that employees in the station have to resort to pushing people into the wagons! Called Oshiya (pusher in Japanese), they are technically in charge of passenger security. The pushing is just an extra perk.
12. Bathing suit tester
French lingerie brand Etam is offering a paid one week contract to travel to
Miami, Rio de Janero, or Saint Barthélémy, with all expenses paid,
to wear their new line of bathing suits and share your impression of them on social media. Basically, this job is a paid vacation in exchange for a few pictures of yourself in a bikini.

Are you drooling over these jobs yet? What would your dream job be? 
If you want to discover the 25 weirdest jobs, check out this article!