When you are writing your CV, there are a number of factors that need to be taken into consideration such as content, format, page layout, and colours. Your CV is your showcase: like a website, it defines who you are and shows the recruiter all of your qualities in a singe page. Pauline Lahary, founder of MyCVfactory and expert in this domain, presents us with the different meanings behind the colours used in your CV in order to help you choose the right ones.
Colours and their meanings : the TOP 8 colours to use on your CV based on your sector and your job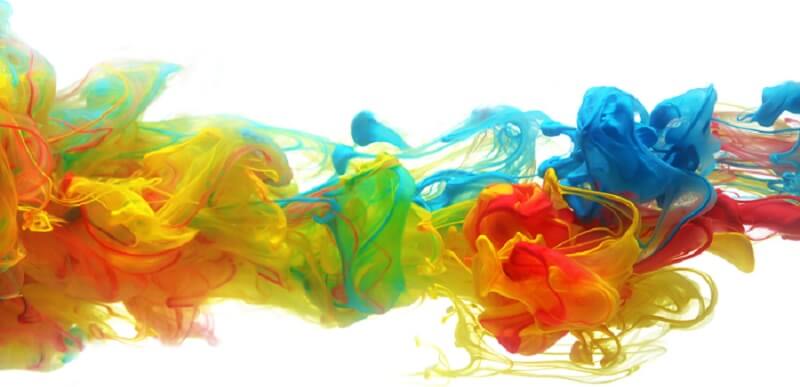 In a CV, colours are not only there to be aesthetically pleasing. They can have different meanings and it is important that you are familiar with these before you design your CV:
1/Blue
Blue is the colour of action and impulsion. A blue CV offers a 100% clean and sober feel, is a classic in-style colour, and reflects a very positive image of your personality. It is a colour that opens up perspectives, that suggests openness, and that is pleasing to all .
We recommend: blue can be used for all types of jobs!
We love
:
Twitter blue, combined with light charcoal grey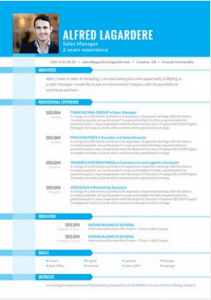 2/ Red
Red represents energy, and inspires seriousness and rigour. It has many positive connotations (heat, power, passion...) but being a very dominant colour with a strong character, it should be used sparingly.
We recommend
: red for Finance & Banking
We love
: a red that is bright and simple for your name and your titles, with a light grey for the rest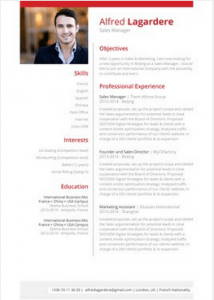 3/ Yellow
Being the colour of the sun, yellow evokes joy and friendship.
This colour

can be

used to

brighten up a

CV

because it

is stimulating

and warm.

Yellow is the

colour

expected

in the area

gastronomy

and restaurants

, as

yellow

makes you hungry

!

A CV for

Michel

& Augustin

or

a start-up

selling

French products

?

Opt for

an

orangey-yellow.

But be careful

:

yellow

does not print well

,

and

is not seen

when the document is in

black and white

!
We recommend
: a bright orangey-yellow so that it is 100% visible when printed
We love
: the colour yellow, but in small doses!
4/ Green
Being very natural, green represents hope and stability. A trendy colour for 2015, but watch out: green can quickly become dull if the hue is not well chosen.
We recommend
: green for professions related to furniture, eco-friendliness and engineers
We love
: combining an apple green with cream, brown, or taupe tones!
5/ Orange
It's invigorating, as well as creative and communicative. It is a bright and lively colour that is perfect for you CV. It gives it a touch of cheerfulness and optimism.
We recommend
: orange for gastronomy (chefs, restaurants)
We love
: a pastel orange for headings and key information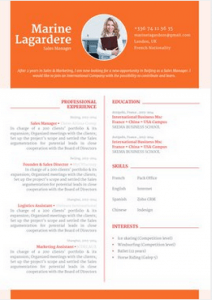 6/ Brown
It's the colour of the earth, and is soft, natural, and neutral. It is a classic colour that never gets old that we recommend for your CV. Nevertheless be careful when choosing the tone, as it can have a tendency to make your image look dull.
We recommend
: brown for your font or for borders
We love
: coupling brown with other tones of brown, as well as with orange
7/ Violet
A massive

yes

for this colour that is

so cheerful

&

trendy!

Between

purple and

blue

, violet is

a salient

colour,

perfect for the

CV

.

It corresponds

to spirituality

&

stability.
We recommend
: a blueberry juice type violet, fresh for summer!
We love
:
associate
purple with
light colours
(white,
sky blue, light
pink)
8/ Pink
The symbolic history of pink touches along the lines of identity and relationships with others. It inspires seduction, romance and optimism. We validate pink for CVs, but not light pink.
We recommend
: Pink for entertainment, the events sector, and communication
We love

:
a deep pink that is not too Strawberry, that leans towards fuchsia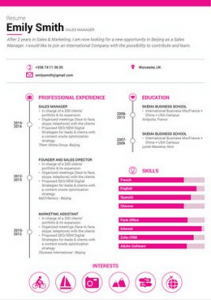 You now know our
TOP 8 colours to use on your CV
. We also approve the use of neutral colours such as
beige, grey, and off-white
,
which

provide softness

, calmness

and serenity

. Pastel colours

are also welcome

for their elegance

&

their

pleasant

appearance.
Our final tips :
♦  Avoid strong contrasts like black and white, which can make your personality come off as rigid ♦  Avoid bad taste, as a bad combination of colours can really damage a CV and puts at risk your application ♦ For the main bodies of text on the CV, we prefer to use a dark grey (RGB : 51, 51, 51) rather than black, which we find too harsh ♦ Never use more than two colours on a CV
Why use colours in your CV
The colours

are meant to

make your

CV

more readable

for the recruiter

and

to help convey a

clear message

, through

colours

that suit you

.

The colours

on your CV

also help

highlight

the key points

and clarify the

CV's

structure.
A multi-coloured CV can point to a disorganised candidate. Be careful in your choices, and make sure that you respect the
2 colours maximum rule!
Also, if

you send

your CV

by email

, you should know

that HR

will print it

,

most often

in black and white

, so make sure that you choose colours that print well.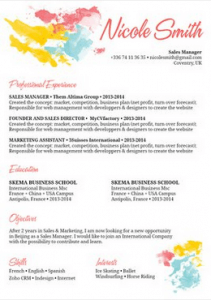 To finish on a colourful note!
Choosing colours can be difficult, so it is suggested to reach out to a professional CV service to avoid errors in taste and judgement. These colours will: —
Prioritize
content
—
Differentiate you from other
candidates
—
Convey a message
The colours

you have chosen

need

to be

harmonious and

pleasing.
Remember as well

that when we are

reading your

CV

, we must see two things

:

easy

readability and

cleanliness.

This will push

a recruiter

towards contacting

you

!
D

on't have

this feeling

when reading

your resume?

Then go ahead and c

hange the colours

, the font, or the

design.
It is therefore important to properly choose the colours of your CV in accordance to their meanings and the added value they bring to your application.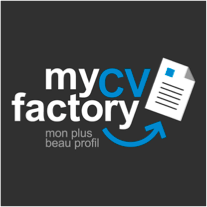 Pauline LAHARY, from Mycvfactory wrote this article
Mycvfactory offers CV samples and unlimited Coaching advice! Looking for a career change? Mycvfactory is the right place to go to, so you can drive success to your profile.Twitter : @myCVfactory