We interviewed Ruben (aged 25), the founder of recently launched Drip, a mobile app that allows you to purchase coffee from your phone and that is aiming to be the biggest chain of independent coffee shops around the world. You can discover local coffee shops and enjoy discounted beverages all from your phone. The app is currently available on the App Store and coming soon the Google Play. And the first drink is on them!
Can you tell us a bit about your education? And your co-founder?
I have more of a
financial
background: I used to work in Finance in London and I quit my job to "escape the city" and launch this ambitious project, DripApp. My co-founder,
Jeremy
, has more of a sales background: he was key account and export manager for a French toy company.
What is Drip and how does it work?
Through a mobile application, DripApp offers
prepaid coffee plans
at
discounted prices
from
independent coffee shops
.
Our customers can either
prepay a fixed amount of drinks
(5 drinks, 10 drinks...) or
subscribe to a monthly unlimited plan
. They can then spend their prepaid drinks in any location partners. This means our users get
better quality coffee at lower price from local businesses
. We want our "Dripster" to make ordering coffee a more efficient process. On the other hand, DripApp is also
uniting independent coffee shops
, giving them a tool to better
compete against larger chains
by increasing their visibility and traffic.
What inspired the idea for Drip?
We are two
coffee addicts
who appreciate a nice cup of coffee in a nice independent coffee shop. We love the
sublime experiences
we gain from independent coffee shops, and we would like to spread this idea. Unfortunately people tend to involuntarily go for the chain ones, mostly because they are an easily distinguished domicile, so we came up with this idea to find a way to
offer a real alternative.
At the same time, we always wanted to create something and have a new entrepreneurial experience. We were looking at the
coffee business which is booming
and we found out that
Starbucks
launched their own mobile app and that they do more than 15% of their transactions through it. This meant that people are
keen to use their phone to order their coffee
, so we said, why not do it for all of the independent coffee shops?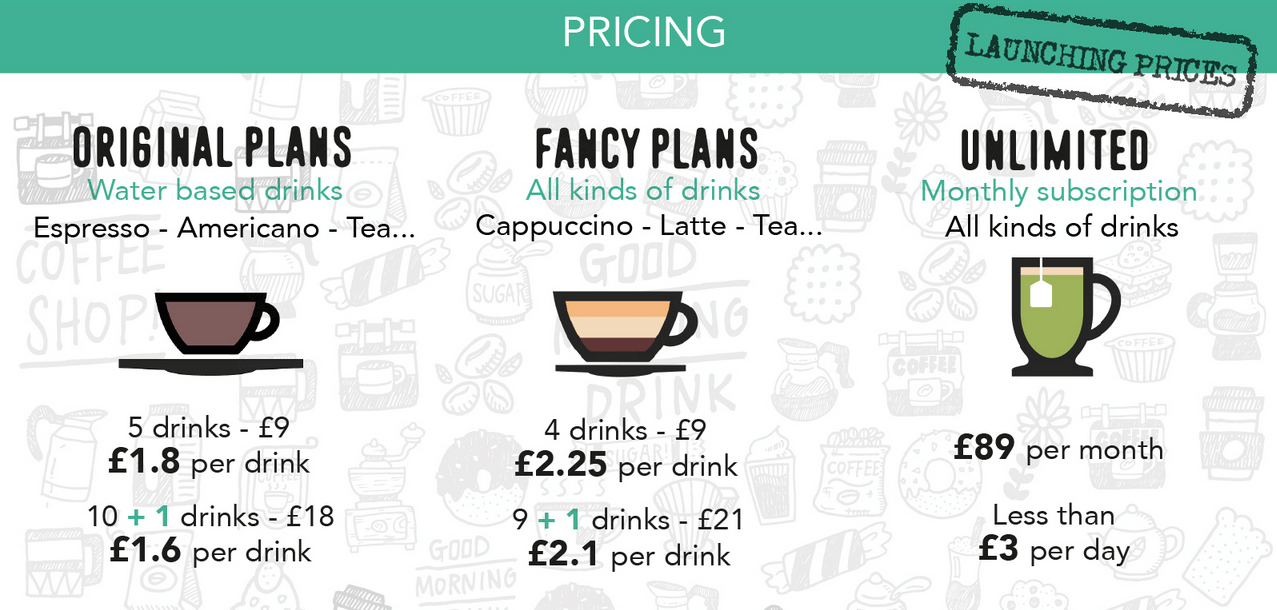 How are you financed?
We are bootstrapping till now. But are
currently raising money.
What is your business model?
Very easy:
Discounts are negotiated
on coffee shop drink prices, and Drip then
shares these discounts
with its users.
What are your future goals?
We are working on small areas for the moment:
Shoreditch, Fitzrovia and Soho
. So we aim to get traction there, then go over London, Europe and the world. Our goal is to
become the first chain of independent coffee shops
where our partners can keep their independence and authenticity and our users can discover new places and consume good coffee wherever they are, without limit.
What has been the biggest challenge so far?
Even if the tech industry was not part of our education, we were really into it, but at the same time a lot of people think that it's very easy to launch a start-up though it's not at all. The first big challenge was to
find a very good developer
who we could
trust.
We spent a couple of months reviewing all of the options and it was very hard. Finally, a childhood friend introduced me to a very good developer and we had a good feeling so we started working together and we are very happy with him. Then, to be honest,
every day is a challenge
because the
startup market is very competitive.
At the same time we are working on a B2B and B2C solution, so we have to
adapt our pitch
when we explain our concept.
Are you currently hiring?
We've just hired
two new people
on our team and we are always looking for talented and motivated people.
And lastly, your best piece of advice for other young entrepreneurs?
Everyday is a challenge
, and you will have
more obstacles than open doors
, but if you believe in your product you should never give up.