Twizoo is a new restaurant recommendation app that sources its data straight from Twitter. The app takes customer tweets about restaurants and bars and turns them into recommendations, making choosing a restaurant or bar nearby quick and easy. Twizoo is available for both iOS and Android.  Co-founded by Madeline Parra (aged 27) and John Talbott, Madeline gives us some insight into this start-up. 
Can you tell us a little about your background and your education? What about your co-founder?
I am Co-Founder and Chief Executive Officer of London-based start-up Twizoo. Prior to Twizoo, I held a variety of roles in IT and strategy at GlaxoSmithKline, culminating with me heading up global digital strategy for their HIV therapy area. I was also named to the UK's top 35 Women Under 35 in 2014 via Management Today and The Sunday Times. I graduated with a B.S. in Mathematics from
Davidson College
in the US, a top 10 liberal arts school.
John Talbott is the Co-Founder and Chief Technology Officer of London-based start-up Twizoo. Before Twizoo, John managed technical projects at Integrative Logic, a business intelligence and data analytics company. John was the results manager for water polo at London 2012 and held a variety of technical roles at UBS Investment Bank. John received his first class honours degree in Computer Science from
Nottingham University
. A former Master's world record holder in swimming, John still swims competitively.
What is Twizoo? And what is the explanation behind the name?
Twizoo is a restaurant recommendation app based on what people say on Twitter—like a TripAdvisor or Yelp, but using customer Tweets as 'reviews'. Driven by a powerful recommendation engine, Twizoo has
analysed over 30 million Tweets
and uses location data paired with the real-time analysis of millions of Tweets to help users decide where to eat or drink. The Twizoo app cooks down these Tweets into an innovative user interface that shows nearby food and drink places as bubbles. Using size and colour as cues to what's best and buzziest according to Twitter, Twizoo users can make a decision
four times faster
than with existing review sites which rely on ratings and lists (i.e. TripAdvisor, Yelp).
Twizoo: /tweh/zu/
This is what happens when you try to mash up 'Twitter' and something that rhymes (sort of) with 'Review'. It's also what happens when you've had a few drinks and see that the '.com' is available on GoDaddy for $5.99. Win.
How did you come up with this idea?
John and I used to do a lot of social media analysis work for GSK and traditionally, social media analysis has been a business to business industry—businesses telling other businesses what people are saying about their brands on social media. We realized that no one is really is
delivering social media analysis back to everyday people
in a way that helps them make a decision or solve a problem. This is a missed opportunity, because people are always seeking out the customer opinion online— that's why TripAdvisor and Yelp exist. We did some investigation and realized that on average there are
5 more Tweets about a place for every 1 traditional reviews
. With more
volume of opinions
, we can give people better,
real-time recommendations
besides relying on stale reviews. That's how the idea for Twizoo was born.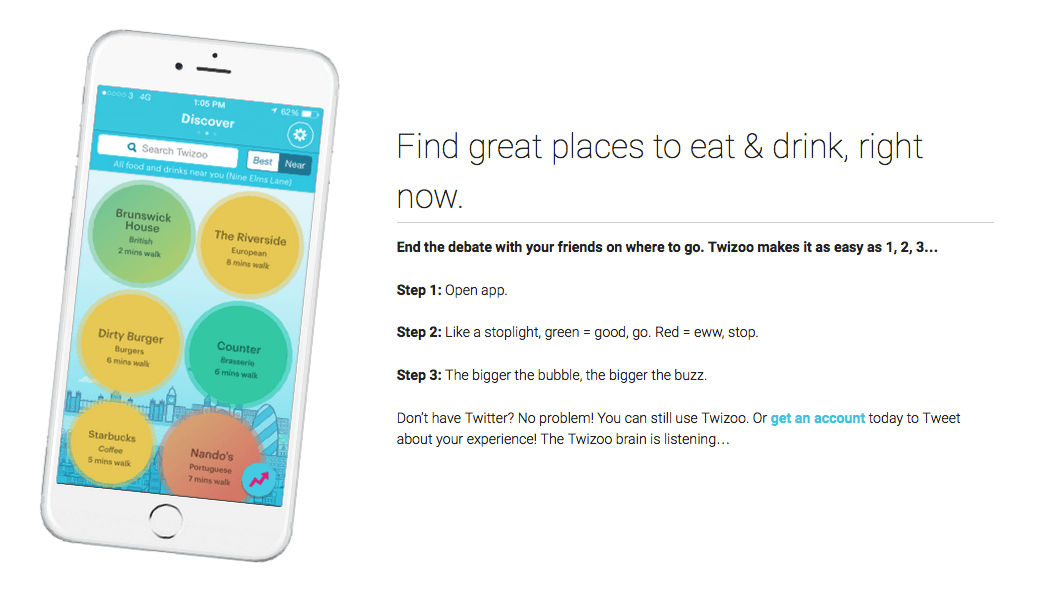 Have you always wanted to start your own business or is it something that you fell into unexpectedly?
Yes, I've always wanted to start my own tech business. In college, I started a website that recommended fashion and style tips to teenage girls, but I didn't have enough business experience at the time to know crucial things like how to get users or how to build a team around my idea. So, I went out and got a 'real job', first as a teacher and then at GSK, which really helped me
gain the experience needed
to build a tech start-up.
How have you been funded?
We received
£250,00
0 in
April 2014
from
Jensons SEIS fund
and Paul Forster, the former CEO and Co-Founder of Indeed. We closed a round of
£1.2 million
in
April 2015
led by
Downing Ventures
, with participation from EC1 Capital and Paul Forster.
What is your business model?
Twizoo offers an
innovative advertising model
that automatically creates native ads in the Twizoo app from a restaurant's organic Twitter feed. Advertising doesn't affect a restaurant's ranking on Twizoo, but it
expands their existing Twitter reach
beyond their followers to Twizoo users who are looking for a place to eat or drink. Through
iBeacon technology
, Twizoo measures footfall as conversion from the Twizoo ad. Twizoo won the government-led 'Innovation in Hyperlocal Advertising' award for Twizoo's novel approach to measuring return on investment from social media advertising.
What has been the biggest challenge in building Twizoo?
Marketing
on a shoe-string! Twizoo is definitely a huge underdog in comparison to other crowdsourced restaurant review apps like Yelp, Foursquare, and TripAdvisor-- which spend millions and millions on marketing and community engagement. The biggest challenge is
finding creative and cost effective
ways to reach our target audience. Once people download the Twizoo app, they love it, but reaching them through the dominant voice of the big competitors can be challenging. We're getting there though!
You recently launched your app in San Francisco. Do you have plans to expand to other cities in the near future?
Yes, we have our eyes set on
New York Cit
y for late Summer and
other U.S. cities like Chicago
over the next several months.
What advice would you give to other young entrepreneurs aspiring to or currently building their own start-up?  
There is something to be said for short-term goals. The number one advice I would give young entrepreneurs is to
prioritize your short-term goals
and stay laser-focused on achieving those milestones, one after another. I think all entrepreneurs know what their long-term ambitions are for their idea or start-up, but struggle to stay focused on the short-term priorities that will actually get them there. Identify them, and deliver.