Simon Pusey (aged 28) is the founder
of
Feast
, the start-up that is aiming to satisfy the late night cravings of Londoners. The late night delivery service currently delivers 3 restaurants between 11pm and 5am. Londoners no longer have to resort to cheap and low quality kebabs or the nearby chicken shop when their stomach starts growling late into the night. Simon tells us more about this delicious start-up.
 Hi Simon. Can you tell us a bit about your background and education?
So I was really fortunate to go to a great school in the UK called Winchester College. My parents taught there so could afford the fee's. I then went to
Bristol University
for 3 years before doing a postgraduate diploma in journalism at
Cardiff University
. After that I started working on the TV News at the BBC in Wales, and soon became a correspondent there. When Channel 5 News offered me a reporting job I moved to London and started presenting for them, before taking the slightly maverick move to join an English speaking channel in Beijing where I presented sports for a year.
What is Feast?
Feast is a
Late Night Food Delivery Service
that runs between
11pm and 5am
. We operate in the city of London and East London, delivering restaurant quality food at times you can't get it anywhere else.
What inspired this idea?
Returning to London after a year in China emphasised to me just how
limiting things sometimes are here
. One such thing is the
24 hour culture
. Millions of people continue to work and party way beyond 11pm, but the services just aren't there for them. Restaurants, shops and transport just shut down and it's really frustrating in such a vibrant cosmopolitan city. However there are several really good 24 hour restaurants in London which do stay open. So I thought there was an opportunity to link them up with a delivery network and solve what I believe is currently a big problem - the
lack of quality food options after 11pm.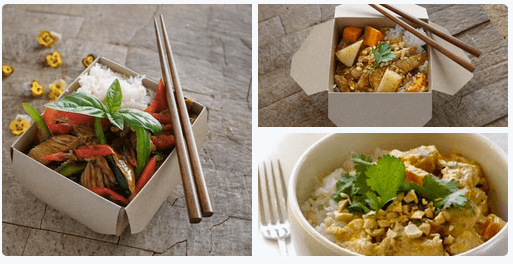 You previously worked as a news broadcaster. What caused you to change career paths and launch your own company?
So I'm still a
freelance journalist and presenter
, which I guess is the ideal situation because you're not really taking the big dramatic step of quitting a job to start a company, more scaling down the amount of work you do in that job. The thing that's always annoyed me about working for someone else is that you're not in complete
control of your own destiny
. There's always other factors/people to blame if things aren't going your way or if you feel you're not being given the opportunities you feel you deserve. When you're the boss you obviously have total responsibility, and the future is in your hands. You can hardly turn around and start blaming the market for not buying your product, so I think it's more of a meritocracy than when you're one of a number of employees at a company.
How are you funded?
Part of the beauty of the business model is that we have
very few costs
: all we really need is a website and a delivery driver. So at the moment while we're in the early stages of building the company we're self funded. However we are in the process of looking for seed funding to build a better website and an
app
and promote ourselves more.
You officially started delivering on July 20. What challenges have you faced during this launch period?
Considering we're doing something that's pretty unique, the first few weeks have gone remarkably well. Trying to bed in a system with restaurants who have never previously done delivery before was always going to be tricky. Also getting new restaurants to sign up is a challenge. Those that do stay open late typically close their kitchens at 11pm.
What is a typical day like for you? I imagine your schedule is not the traditional 9-5 type, given that Feast runs from 11pm-5am.
It's certainly
not the typical office job
. We tend to start work at about 3pm; writing emails, working on social media, maybe the odd meeting. Then around 10pm we'll prepare for the night ahead by calling our restaurants and checking that all the food we have on the menu is stocked and that everything else is fine. Then it's 6 hours monitoring the orders as they come in, and co-ordinating our drivers to the various deliveries, before we close the site at 5am. We then pay the restaurants what we've made them over the course of the night and are generally asleep by 6am.
You currently have three 24 hour restaurants (legendary Beigel Bake, Bamboo Box, and Polo Bar) for which you deliver. Do you have plans to expand this list?
Yes, so our general ethos is giving people choice where previously there was none. So the more variety we have on our website to offer people the better. Several restaurants have shown an interest but want to see evidence of a prolonged period of sales before they say yes. So our plan is to
continue growing
, getting more sales in, and adding more restaurants as we go. In October the plan is to expand to Soho and Mayfair with Balans, and try and grow a similar collection of restaurants there.
Lastly, what is your best piece of entrepreneurial advice?
Ah there are too many cliché buzz-phrases to name. I'd go with the old mantra that
actions speak louder than words
. Anyone can have an idea or a theory, but actually doing it is a whole different ball game. Going from 0 to 1 is a lot harder than it sounds, but it's those who actually go for it, who don't give up, who are persistent and resilient who are the game changers that ultimately succeed.
Thank you Simon! You can follow Feast's latest news and updates on their Twitter and Facebook page.